Resources
Website Tips and Advice for Independent Consultants
Website Tips and Advice for Independent Consultants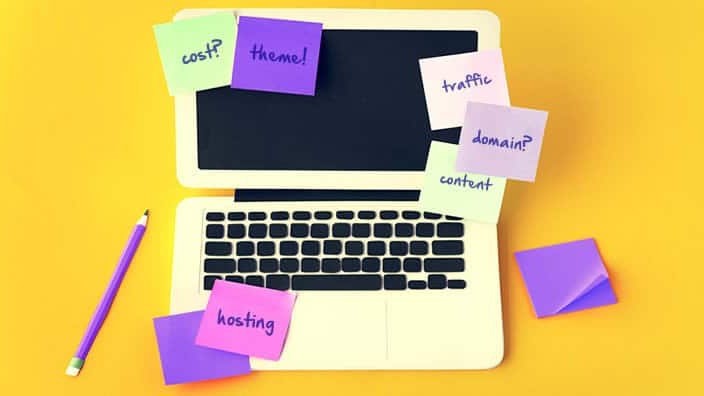 As a self-employed consultant do you really need a website?
We're asked this a lot, particularly if a consultant gets most business from referrals or they contract through agencies or boutique firms. Besides, it's highly unlikely that a prospective client is going to stumble upon your website and decide to hire you. Surely creating a website is a waste of time and money, right? Wrong.
You need to have a business website. Here's why:
Due to the recent Dynamex ruling in California, if you want to be paid on a business-to-business 1099 tax basis and preserve your business-owner tax advantages (see "1099 vs W-2"), you definitely need a website because it will serve as evidence that you are "customarily engaged in an independently established trade, business, or occupation."

Millions of people hang out their "consulting shingle" every year, so having a website will help you stand out from the crowd and demonstrate your professionalism. And of course, the more professional you are, the higher your perceived value, which in turn leads to higher compensation.

If you don't have a website, even a simple one-pager, a prospective client might perceive you as a short-term contractor, or worse, insincere about your career. A website is essentially a digital storefront or online brochure that confirms your credibility enough for someone to want to have a conversation.
If you already have a website, congratulations, you're a step ahead of most self-employed consultants. If you don't, keep reading!
The easy way to create a simple, yet professional website.
Some consultants spend weeks and piles of money creating fancy websites with video, graphics, and custom photography. It doesn't have to be that complex. Here's advice from Jared Gold, the creator of WebsiteByTonight, a service that specifically serves self-employed professionals and solopreneurs. *
First, disregard everything you've heard about websites.
Confusion and misconceptions about websites are endless. People read a few articles in Entrepreneur or Inc. Magazine and they think they're digital marketing experts. The first rule is to keep it simple. Ignore whatever you hear to the contrary.
You only need a website to start. Forget social media, email lists, and search engine optimization (SEO). You can even skip the fancy logo.
Social media – Down the road, you may pursue this, but for now your clients are likely to find you through referrals and good old-fashioned hustling. The only thing you really need for social media is a professional headshot on your LinkedIn profile. (Without one people may think you're horribly ugly, incredibly shy, or too stupid to upload the photo. From your LinkedIn profile you can and should link to your business website by updating your contact information. You may also want to add it as "rich media" to your summary.
Email lists – It's rare for a solo consultant to build their business successfully by sending newsletters or frequent emails to their contacts. Occasionally, yes, it makes sense to reach out to your network but it's best to do so in a personal way, rather than blasting your contacts with newsletters.
Search engine optimization (SEO) – For most self-employed professionals, their best leads come from people they know, not from someone finding their websites via an Internet search. It can be costly and time-consuming to be listed in the first page of Internet search results, so don't worry about this for now.
Company logo – This actually isn't necessary for a simple, professional website so don't let this hold you back. Besides, you can get a logo produced in a week or two for $100-$150 using a service like Fiverr, or a logo and business card package from 99designs for about $450. The hardest part is deciding what to name your business.
With those complications off the table, start your website with an easy-to-use platform solution: Squarespace.
As an independent consultant, all you need in the beginning is a simple brochure site. Squarespace is the answer.
Squarespace lets you build and easily maintain an attractive website by using intuitive widgets and drag-and-drop tools. After checking out numerous other platforms, Jared hitched his wagon to Squarespace over five years ago and it's now the only platform his business uses. He says Squarespace is still the clear leader over Wix, Weebly, etc. when it comes to simple yet professional "brochure" websites.
What about Wordpress?
WordPress is a robust platform, but a good WordPress website is often far too expensive to build and too cumbersome to maintain for just a simple, attractive brochure website. If you have a large budget with complex design and technical requirements, then you might consider it, but if you want to keep it simple (which is guiding principle number one), don't bother because it's just too complicated. With WordPress you'll need to buy a premium template (choosing one is extremely hard because there are so many), then you'll need to find a website hosting company (once again, so many), and then you may need to find plugins (so many...are you noticing a pattern here?). There are often plugin updates and security patches to download and install, and with so many things working together, it's possible for those templates, plugins, etc. to break. Then where do you go for support? Remember, keep it simple!
Bottom line: Start with Squarespace.
Squarespace is a fully turnkey drag-and-drop web platform. It has all the functionality you need (including blogging, forms, e-commerce, and more), and beautiful templates that look great on all devices (including mobile). Everything works together and plays nicely. Never any updates or patches to download and install. If you have a problem, their award-winning, in-house customer service promptly responds via live chat or email. No third-party providers. The cost: a low monthly rate starting at just $12.
So you're going to use Squarespace. Now what?
Jared's WebsiteByTonight clients fill out a simple project brief to organize their thoughts. He was kind enough to let us share it with you here. (Click here for our 4-page checklist.)
What's the purpose of your website / what are you hoping to accomplish?

As a self-employed consultant, it's likely that all you need is a simple brochure website with a contact form to boost your professionalism and credibility. So optimize for that objective. Include enough info that people are inspired to pick up the phone or fill out the contact form. Don't overthink it!

Who is your ideal customer/client/audience? Usual demographic?

Think about your best customer – the one that you can help the most, enjoy working with the most, and is willing to pay you for your service. Create the website with this person in mind. The more specific, the better.

What are some websites you like – and why? It's best if the websites you like are in the same industry or have the same purpose (for example, to increase credibility).

Make a short list of other simple brochure websites that you like. To get started, think of other self-employed consultants you admire and look at their websites. Don't use a corporate website or an e-commerce website for inspiration.

When people see your website / brand, what adjectives or feelings do you want to pop into their minds? Is there an overall tone you're going for (calm, trustworthy)?

This will help determine the fonts and colors that you use. For example, do you prefer a more modern and calm feel or a more sophisticated and energetic feel? There are no right or wrong answers – just whatever works for you and what your target audience can relate to. It helps to have these tone adjectives in mind before you start designing.

What are some Squarespace templates you like – and why?

Squarespace has a many attractive templates to choose from. Most have the same core functionality (text, image galleries, online shop, blog, etc.).

Jared's main point of advice here is to pick a template that best matches your purpose and type of content. For example, photographers choose layouts with a lot of photos, while consultants may prefer a template with sections so they can easily highlight their service offerings.
Here are a few other prep questions we suggest you answer before you start creating the website.
What are your core service offerings?

Remember, keep it simple, so no more than three. Write short descriptors (these will be headers on the website), then describe how these services help clients. Try to write so that a prospective client can easily identify with the situation or challenge. (Later, after the initial site is done, add case studies or samples to give visitors a better idea of what you do and how you do it.)

What is the market segment or industry of your ideal client?

For example, start-ups, mid-market, or global companies? Do you specialize in a particular industry like biotech, financial services, or the tech industry? This isn't critical to mention on your website, but if you do have an emphasis or a lot of experience in an area, you may want to mention it and build your business in that space.

Do you have any clients or prior employers that you can feature?

Featuring the logos of clients or past employers is an easy way to demonstrate that you're a qualified professional, particularly if they are household names like Levi Strauss, Clorox, or Nike. (Note, some companies state in their contracts that you are not allowed to use their names for advertising purposes, so review your contracts before you do this. As a practical matter, you may want to take a "beg forgiveness" approach and just wait and see if the company sends you a cease and desist letter.)
Getting started on Squarespace
Once you've followed the steps above and have picked a template, you'll be given a free trial site, which you can easily extend as needed. It's a private link that nobody else will know about, though they can view it if you share it with them. This is helpful for getting feedback or input on your site as you build it.
A few other important odds and ends:
Buy your domain from GoDaddy. This makes the domain versatile just in case you need to move it from Squarespace someday, plus its customer support is excellent.

Do not use a personal email account for your business such as @gmail.com or @yahoo.com.It's very unprofessional and makes you look like an amateur, even if you're the best consultant on the planet. Through Squarespace, you can easily sign up for G Suite – which is just Gmail/GoogleDocs for business. Alternatively, GoDaddy has email packages for as little as $5 a month. (See also "One Easy Step to a Polished, Professional Image.") It's best if your email address matches your website domain. Both Squarespace and GoDaddy make this easy.

Create a contact page form. This is quite easy in Squarespace. With the form your email address and phone number aren't visible, preventing spam and robocalls. Jared recommends that you keep it simple with just four or five fields: name, email, phone (optional), and "How can I help you?", and "How did you hear about me?".

Write your text in a word-processing program first to easily catch spelling errors and basic grammar mistakes. Then copy and paste the text into Squarespace.

Include links to your LinkedIn profile and Twitter account if you have one.

Be sure to have someone proofread the site and test all links, just to make sure it's flawless. If a link leads the visitor away from your site, it should open a new window or tab.
Once your website is built...
Let your network know! This is an excellent excuse to inform your network that you're now an independent consultant or to remind them how you can help. Add a link to the website to your LinkedIn profile, post an update on LinkedIn, and send some personal emails to well-connected colleagues. (Tip: In addition to a link to your new website, include a short summary of the types of problems you solve or pain-points you alleviate. Remember to ask them to forward your email to one or two people who may someday need your help.)

When a prospective client fills out your contact form (technically it's a lead), first evaluate if the person is legit. Then set up an intro call. This is usually more efficient than corresponding via email, and it lets you lay the foundation for a relationship. For scheduling initial calls, try using Calendly, or if you're a Gmail user, try Boomerang Calendar.

Last, keep track of your prospective clients and where they are in the stages of becoming a client. Jared recommends Streak – the free CRM (Customer Relationship Management) software that lives inside Gmail. It has a user interface like a spreadsheet so it's very easy to see all of your possible deals at a glance and update them as things change. If you're not a Gmail person, check out Zoho, HubSpot, or Pipedrive.
Go forth and build! You have everything you need to get started.
Answer the questions above and lay out your basic website. You can add bells and whistles later as your business grows (a nice logo, SEO, an elaborate content marketing strategy, etc.).
If you get stuck, don't feel badly – this comes easier to some than others. Here are two additional sources for help:
Participate in one of the web workshops that Jared hosts every 2 or 3 months for PICA. Look for it on our Calendar of Events.

If you'd rather hire someone to help you, schedule a "free ideas" call with Jared at WebsiteByTonight. PICA members get $50 off the WebsiteByTonight build-it-accelerator package. Just use the code PICADISCOUNT at checkout.
Related Articles